NEWSLETTER OCT 2ND  📅 – 5 THINGS TO READ AND A JOKE
The times they are a-changing! What NEW things did we pick up, enjoyed, etc?
1) NEW Marketing Case Study we Loved: Burger King is known for its quirky ad campaigns. Remember their moldy whopper? This time, they've really outdone themselves. Here goes.. A year or so ago, they became shirt sponsor of Stevenage FC, an unknown 4th division club in the UK. Strange move right? Why not go to a well-known club? It became obvious soon enough. Burger King got 1 thing just right. .. They knew that Stevenage FC is a small club, but that the club is just big enough to appear in the biggest soccer videogame in the world: FIFA 20. Knowing this, they launched the #stevenagechallenge, encouraging people to play as Stevenage FC on FIFA and upload their goals to social media to win food prizes. You can watch the case study video on YouTube here.
2) NEW Win for Facebook marketers: Facebook has been on a crusade against text-heavy ad images ever since they've opened up their platform to ads. Why? According to their own research, text-heavy images perform 'less' when compared to non-text-heavy ads. But change is on the horizon!
Before 2016, all image ads with 20% of text or more were automatically disapproved. Since 2016, less stringent rules were adopted. Text-heavy ads were no longer automatically disapproved but reach was lowered. Fast forward to this week, Facebook quietly dropped the 20% text limit on ads altogether. Out of the blue! What does this mean for marketers? First of all, no more screwing around with the 'text overlay tool', and having to redesign ads when your ad is slightly over 20% text. Lovely! However, keep in mind that FB still states that text-heavy ads perform less (lower CTR), they've just stopped enforcing it. So I'd still recommend trying to land your message in the copy and not so much with the ad image. But it's definitely a big win for companies in heavily regulated sectors (alcohol, gambling, etc. ) which are obliged to add regulatory copy to their ads.  The wonderful Jon Loomer shines his light on this news in his blog. Check it!
3) NEW Apple attack on cookies: Apple & Cookies… The battle rages on as Apple announced that it will allow users to choose whether or not they want to share their data with 3rd party apps. Strap up! Cookies are going to be part of the past real soon. Even Google announced they'll drop third party cookies altogether. 
To us, it feels like Tim Cook and his team is playing 3D chess here. On the one hand, they're taking moral high ground by showing their user base that they care about user privacy (by allowing you to opt-out of data tracking). On the other hand, they're opening up an entirely new stream of revenue. How? Well, no more cookies means no more tracking which cripples the (current) advertising efforts of competitors Google & Facebook. At the same time, it pushes their agenda for contextual based targeting (in lieu of cookie-based marketing). Fair game!
4) NEW Lecture on Marketing we loved: Mark Ritson, known to many as 'that Aussie that swears a lot', has traveled the world preaching against bullshit in (brand-) marketing for decades. And we love him for it. This video of him is the best introduction to his vision we could give you. Give it 3 minutes, you'll be locked in for the next hour. It dates back to 2018, but it is still oh-so relevant.
5) NEW Article we wrote: The BCG Matrix, also known as the Boston Matrix, is a popular model to outline a company's investment portfolio. It's a pretty straightforward but proven model (even though it has its limits). We converted the BCG matrix to a marketing tool (see image). The BCG matrix for marketing will help you determine how you should distribute your limited resources (focus & budget) across your current marketing mix. Read all about it on our blog.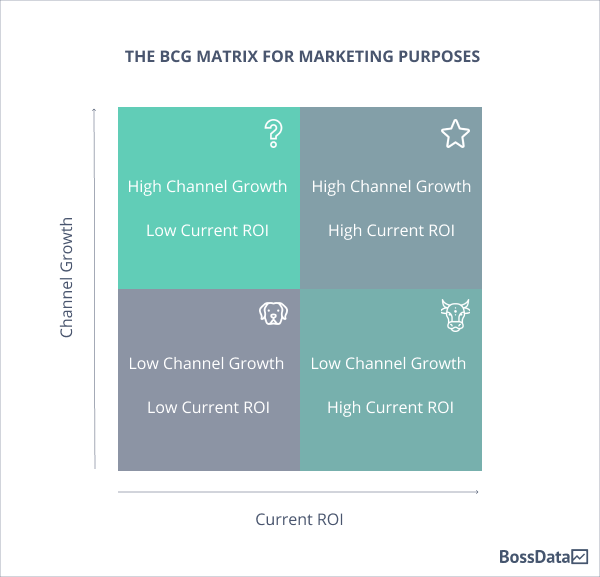 —
1) Joke :
Donald Trump paid a mere $720 in taxes in 2016 & 2017. In case you needed a refresher video explaining America's Tax Code.. Here you go!
That's it for now. If all goes well, you'll hear from us in 2 weeks.
Peace out!